- MURKPAW -
Murkkit ⇢ Murkpaw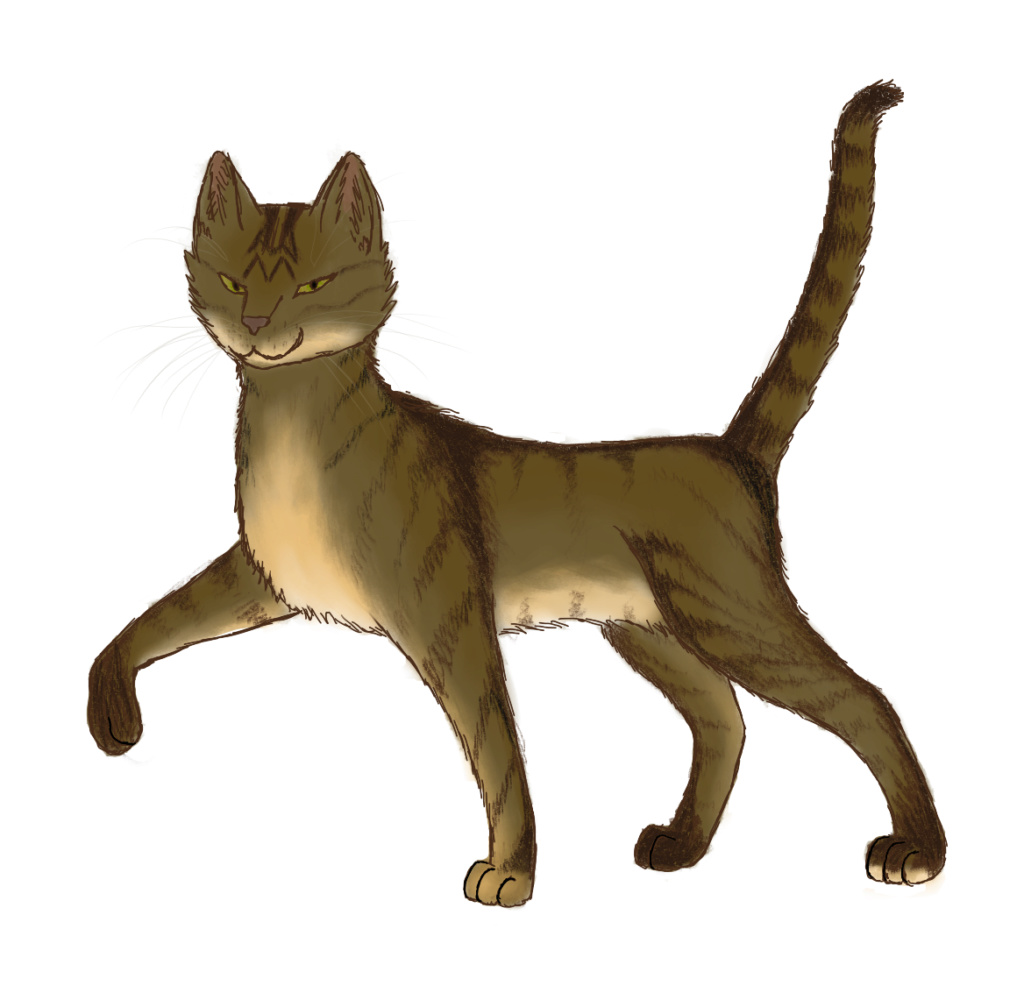 Creation Date - 28/9/2018 Death Date
---
The Basics
Sex:
Male    
Current Affiliation:
WindClan    
Past Affiliation:
Rogue kit    
Rank:
Apprentice    
Stats:
20/80    
Ins and Outs
Breed Inspiration:
???    
Physical Description:
Brown mackeral tabby with a light build, slightly smaller than average size, and hazel eyes
   - - -    
Scar(s):
n/a    
Personality Description
He's a bit of an oddball. Most of the time, he does exactly the opposite of what's expected of him, and hates doing pretty much anything. Under that, though, he does have a grudging sense of loyalty, and doesn't want to hurt others deep down. He just hates socializing, and doesn't particularly care for others, though he has come to realize he needs friends and family.
   - - -    
Positive:
- - - He won't ostracize friends, and has a dry sense of humour when there's opportunity for it to crop up.    
Neutral:
- - - Is lazy, and doesn't care what other cats say about him as long as they're not saying it
to
him. Stubborn.    
Negative:
- - - Grumpy and cynical of pretty much everything and everybody. Selfish.    
Goals:
- - - To find his bush again someday. Get back to some place that doesn't stink.    
Fears:
- - - Big things that might eat him. Other cats deciding he needs hugs and company.    
Likes:
- - - Tight dark spaces. Running. Sleeping.    
Dislikes:
- - - Mornings. Leaf-bare and rain. Kits and other apprentices.    
Quirks:
- - - Has an obsession with bushes, and tends to smell things before he uses his other senses. Actually isn't that talkative.    
Ancestral Beliefs:
- - - Sort of believes in StarClan, though more that they're a bunch of losers who don't care about cats below.    
Blood Ties
Father:
???, Smokepelt    
Paternal Grandfather:
- - - ???, Icestorm    
Paternal Grandmother:
- - - ???, Ashstar    
Mother:
Npc cat    
Maternal Grandfather:
- - - Npc    
Maternal Grandmother:
- - - Npc    
Brother(s):
- - - very many adoptive siblings    
Sister(s):
- - - see above    
Current Mate:
- - - none    
Son(s):
- - - none    
Daughter(s):
- - - none    
Education
Mentor(s):
- - - Silverstrike    
Current Apprentice(s):
- - - none    
Former Apprentice(s):
- - - none    
Fully-Trained Apprentice(s):
- - - none    
The Story
Creation Topic
►
Murkymurk
Birth Topic
►
A Murky Day
Apprentice Ceremony
►
He Becometh Apprentice
Warrior Ceremony
► - - -    
Death Topic
► - - -    
Chronology
Spoiler:
Relationships
Spoiler:
Notes
*He's actually partly based on our cat.
*Originally, he was meant to be the most arrogant cat in existence, but roleplaying does interesting things to characters.
*He only ever thinks and talks about others as "that cat," "some apprentice," "stupid idiot," etc. - unless they're a friend and he knows them better. So if he uses your character's name, congratulations, he likes you (sorta).
   ⤞  ⤝