Cays
Site Moderator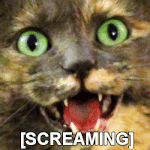 Characters

: Blossomkit ♀ | Dewshine ♀ | Falcongaze ♂ | Marshstorm ♂ | Ridgekit ♀ | Sparrowpaw♀







Number of posts

: 1140


Age

: 28


Subject: Hunting with Boarpaw (closed) Fri Mar 23, 2018 12:36 am

---

Featherheart approached Boarpaw as the sun was in the middle of the sky. With the cold chill finally being swept away, it felt like the perfect time for his apprentice to practice and sharpen his hunting skills. He watched Boarpaw curiously, his wounds seemed to be fairing better. For the first while, he had stuck close to camp to make it easier on him. Now, it was going to be steady going. He approached Boarpaw casually.
"Boarpaw, we should practice your hunting skills. " He lifted his tail to block Boarpaw from following him with a playful smirk. "Don't follow me yet. Walk from one end of camp to the other, I want you to try tracking my scent." He added, waiting until Boarpaw began moving away to pad out the camp entrance.

He wasn't looking to lose his apprentice. The orange tom sat silently in a bush, nestled under a tree that wasn't all too far from the entrance. Yet among the scent of all his clanmates, it could be difficult to tell where he was. The snow was so patchy that it ruined any potential for tracks that might have made it easier.


_________________

Dewshine♀           Falcongaze(NPC)♂             Marshstorm♂              Ridgekit♀            Sparrowpaw♀    

RiverClan Warrior    |    SkyClan N.A.W.     |   ThunderClan Deputy     |   TC Kit     |   SkyClan Apprentice      |

60/200                          40/120                             100/280                  5/5                       20/80     

---

My Characters                       NUDGE ME!