Yoshachu




Characters

: (a) Heatherpaw♀, (b) Scorchpaw♂, (c) Sweetpaw♀, (d) Fernpaw♀, (e) Buttercup♀







Number of posts

: 250


Age

: 20


Clan/Rank

: (a) ThunderClan (Apprentice), (b) ShadowClan (Apprentice), (c) RiverClan (Apprentice), (d) WindClan (Apprentice), (e) Rogue (Default)


Subject: Scorchpaw x Sweetpaw Tue Nov 14, 2017 8:56 am

---

Cat #1Name

: Scorchpaw

Gender

: Tom

Rank

: ShadowClan Apprentice

Cat Creation

:

Scorchkit of ShadowClanCat #2Name

: Sweetpaw

Gender

: She-cat

Rank

: RiverClan Apprentice

Cat Creation

:

Sweetkit of RiverClanWhy have you chosen to have these cats have a forbidden romance?

: I feel this would be very good character development for both Scorchpaw and Sweetpaw -- who of course would only begin having this relationship once they're warriors. Scorchpaw and Sweetpaw both would change as characters for the better with their relationship: Scorchpaw would have newfound respect for she-cats and Sweetpaw would learn that sometimes getting down and dirty -- figuratively and literally -- can be necessary.

Do you understand that StarClan potentially may reveal the romance to Medicine cats?

: Yes

_________________

Heatherpaw, She-cat, ThunderClan, Apprentice, 20/80, #fbce08Scorchpaw, Tom, ShadowClan, Apprentice, 20/80, #ff8000Sweetpaw, She-cat, RiverClan, Apprentice, 20/80, #b38f00Fernpaw, She-cat, WindClan, Apprentice, 20/80, #008801Buttercup, She-cat, Rogue, Default, 45/140, #4bd1e6Click here to see my character profile!Click here to request a drawing of your cat!
Icee
prittykit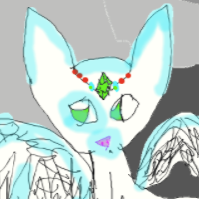 Characters

: {Icepaw}, {Whitecloud}, {Cedarpaw}, {Heatherfang}, {Aspenberry}, {Acornheather}, {Daisypatch}, {Finchpelt}, {Bramblefrost}, {Mistfeather}, Magpiestar, Rainstorm, Poppysong, Foxheart, Dawnpaw, Icepaw, Stagkit







Number of posts

: 2489


Age

: 19


Subject: Re: Scorchpaw x Sweetpaw Sat Nov 18, 2017 2:43 pm

---