Sunlit
Site Moderator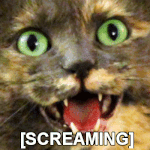 Characters

: [L] Littlestar | [C] - Cloudroar | [O] - Olivelily | [F] - Frostpaw | [La] - Lakewhisper | [T] - Turtlekit






Number of posts

: 1471


Age

: 17


Clan/Rank

: [L] - ShadowClan Leader She-cat. [C] - SkyClan Senior Warrior Tom. [O] - ShadowClan Warrior She. [F] - SkyClan Apprentice She. [La] - RiverClan Warrior Tom. [T] - RiverClan Kit She.


Subject: Sunlit Come Post Ya Lazy Bum! Sun Oct 29, 2017 8:16 pm

---

So since school and work and friends have all been getting a little crazy lately, I'm taking the idea from a couple other members to create a "Post here!" Topic. I honestly can't keep track of the places I'm needed, and when I'm needed, etc. If you need me to post somewhere or create a topic for our characters, just post here and let me know, and I'll get to it as soon as I can. Thanks guys!



_________________

~Site Moderator and ShadowClan Leader~Littlestar

- ShadowClan ~ Leader ~ She-cat

Olivelily

- ShadowClan ~ Warrior ~ She-cat

Turtlekit

- RiverClan ~ Kit ~ She-cat

Lakewhisper

- RiverClan ~ Experienced Warrior ~ Tom

Frostpaw

- SkyClan ~ Apprentice ~ She-cat

Cloudroar

- SkyClan ~ Senior Warrior ~ Tom

My CharactersPost here if you need me!
Tiger_Lily




Characters

: {V}ixenstep {S}himmerpaw {So}otpaw {B}uzzardpaw {D}ovepaw







Number of posts

: 393


Age

: 13


Clan/Rank

: {V}RiverClan Young Warrior {S}SkyClan Apprentice {So}ShadowClan Apprentice {B}SkyClan Apprentice {D}ThunderClan Apprentice


Subject: Re: Sunlit Come Post Ya Lazy Bum! Sun Nov 26, 2017 8:25 am

---

_________________

Vixenstep (RiverClan Young Warrior)


[Shimmerpaw (SkyClan apprentice)
Sootpaw (ShadowClan apprentice)
Buzzardpaw (SkyClan apprentice)
Dovepaw (ThunderClan apprentice)
TheRealDirtyDan




Characters

: {F}orestpaw(TC) {D}awnBreeze(SC) {N}ightshade(RC) {B}irchpaw(RC) {S}hadefall(WC)







Number of posts

: 607


Age

: 97


Clan/Rank

: {F}TC apprentice {D}SC NAW {N}RC NAW {B}RC Apprentice {S}WC NAW


Subject: Re: Sunlit Come Post Ya Lazy Bum! Mon Apr 16, 2018 4:34 pm

---

hay! just sayin i ned littlestar for

This

. Idk if u were gonna do it, so i just nudging just in case ;)

_________________

   


Nightshade///Forestpaw///Birchpaw///Dawnbreeze///Shadefall
RC NAW///TC apprentice///RC apprentice///SC NAW///WC NAW
40/120///20/80///20/80///40/120///40/120
Color- 000000///Color-009933 ///Color-999966 ///Color-ff9933 ///Color-000033
Sponsored content

Subject: Re: Sunlit Come Post Ya Lazy Bum!

---