Sun
I LOVE PIKACHU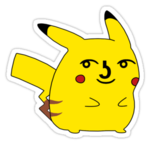 Number of posts

: 7027


Age

: 18


Subject: regarding outsider kits in shadowclan Wed Jun 21, 2017 10:34 am

---

First, this is not so much a corrective measure as a preventative one. I would like to reference

this

topic about clan acceptance. ShadowClan is not supposed to accept outsiders of any kind. That might change with Magpiestar, but that's in the future. Today onward I'm sending all cross-clan kits to the other clan so that I can stay consistent with Leopardstar's beliefs. Rogues might just be sent off to TC lmao. You'd be better off making a pure SC cat. The upside of NPC-born kids if there are no expecting queens:

you can do whoever you want without fear of awkward incest

.

If for some reason anyone feels the need to bring outsider kits into ShadowClan, you must make a topic of bringing them to ShadowClan camp

. None of this "they just appeared there" crap, please. I'm not trying to accuse anyone, I just want to make sure it doesn't happen in the future. Go and make those pure babies. Obey the law.
FreckleSong




Characters

: FreckleSong







Number of posts

: 15


Age

: 12


Clan/Rank

: ShadowClan


Subject: Re: regarding outsider kits in shadowclan Mon Jul 31, 2017 7:43 pm

---

Umm, my parents are NPC, does this mean me?!

rosekit
(FreckleSong
Drippy




Characters

: (S)unpaw(Deceased, (L)eafstorm, (F)lowerpetalDeceased, (G)ingerpawDeceased, (R)owantalon, (W)illowpaw, (SH)arppaw, (M)intkit







Number of posts

: 1652


Age

: 98


Clan/Rank

: Thunderclan Apprentice/ Thunderclan Warrior/ Riverclan Newly Appointed Warrior / Default Rouge/ Shadowclan Warrior /Shadowclan Apprentice


Subject: Re: regarding outsider kits in shadowclan Mon Jul 31, 2017 7:45 pm

---

It doesn't, as long as your parents were from Shadowclan, and not from some other clan.

_________________

Proud member of Thiccclan, residents of Radclanland - Shadigo 4 lyfe - Official Shadowclan Father

Leafstorm, Exp. Warrior of Thunderclan. Mintpaw, Apprentice of Skyclan. Sharptooth, NAW of Thunderclan. Willowheart, Young Warrior of Shadowclan. Rowantalon, Exp. Warrior of Shadowclan.

I hAvE CLaiMEd tHIS COloR foR CBOXING IT IS MINE
Sponsored content

Subject: Re: regarding outsider kits in shadowclan

---