Sunlit
Site Moderator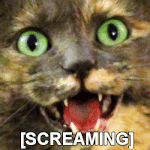 Characters

: [L] Littlestar | [C] - Cloudroar | [O] - Olivelily | [F] - Frostwing | [La] - Lakewhisper | [T] - Turtlepaw | [M] - Mothpaw






Number of posts

: 1656


Age

: 18


Clan/Rank

: [L] - ShadowClan Leader She-cat. [C] - SkyClan Senior Warrior Tom. [O] - ShadowClan Experienced Warrior She. [F] - SkyClan Young Warrior She. [La] - RiverClan Experienced Warrior Tom. [T] - Riverclan Apprentice She-cat.


Subject: Cloudkit of SkyClan Tue Apr 18, 2017 12:12 pm

---

Cat Name

: Cloudkit -> Cloudpaw -> Cloudfrost/shadow/gaze? idk yet

Tom or She-Cat

: tom

Appearance

:

He's also blind.

Personality

: He can be quite blunt at times. He will tell you like it is and doesn't hold anything back. He believes in living in the moment, and can at times get himself into trouble because of this. He has a sort of "I don't care" attitude, but it's mostly a cover for how much he actually does care. Towards the cats he's close to though he is extremely sweet, caring, and can be a bit overprotective. He'll protect his loved ones at any cost, and always speaks up for what he believes in.

Clan

: SkyClan

Origins

: CherrymistxRippedsky

(Sandybreeze is missing)

_________________

~Site Moderator and ShadowClan Leader~Littlestar

- ShadowClan ~ Leader ~ She-cat

Olivelily

- ShadowClan ~ Experienced Warrior ~ She-cat

Turtlepaw

- RiverClan ~ Apprentice ~ She-cat

Lakewhisper

- RiverClan ~ Experienced Warrior ~ Tom

Frostwing

- SkyClan ~ Young Warrior ~ She-cat

Cloudroar

- SkyClan ~ Senior Warrior ~ Tom

My CharactersPost here if you need me!
Sombra




Characters

: (T)awnystorm, (S)parkflower, (M)ossfoot, (P)inekit, (A)spentail {Felix, Raven, Sunpaw, Magpieclaw, Stormpaw, Redfeather, Saltpaw, Heatherstripe}







Number of posts

: 2027


Age

: 99


Clan/Rank

: not dead


Subject: Re: Cloudkit of SkyClan Tue Apr 18, 2017 6:09 pm

---

Approved!

_________________

| site moderator |please read

tawnystorm ~ sparkflower ~mossfoot ~ pale light of dusk

riverclan warrior ~ thunderclan meddie ~ windclan warrior ~ tribe of endless skies elder