Splotch
I LOVE PIKACHU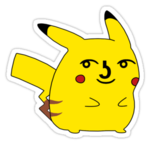 Characters

: Nightwatcher







Number of posts

: 3065


Age

: 17


Clan/Rank

: Ye Old Member;; ShadowClan warrior


Subject: My Five Year Anniversary on WCC Sat Jan 14, 2017 9:16 am

---

I don't plan on doing much besides this post, but I wanted to give thanks to everyone here. This is the very first place I started Rping, and I regret nothing. Sure my posts in the beginning were the absolute worst, but it only went up from here. I've made amazing friends here, who have supported me through so much in my life--and gave me a get away from those moments. I've found real friends who care--both on here and in real life. These five years have seemed to fly, and we all have grown up so much since I first logged into WCC. From there on, this site has become a home to me. Even if I don't constantly roleplay, it has not diminished how much I care for this site and the people on it. From new to old members, from the experienced to the novice. Thank you for an amazing five years, and cheers to even more.

Love you guys!

_________________

☜

Miss Splotchy Ye Old Member

☞


✧✧✧Nightwatcher of Shadowclan✧✧✧


*✲゚**✲゚*Character Profiles*✲゚**✲゚*
Dimmeh




Characters

: (G)oatshade (WC), (F)allowstripe (RC), (Bl)acktwig (TC), (B)ouncepaw (RC); (E)gretkit (SC)







Number of posts

: 2828


Age

: 16


Clan/Rank

: (G)WC, NAW (F)RC, Warrior (Bl)TC, SW (B)RC, MCA (E)SC, Kit


Subject: Re: My Five Year Anniversary on WCC Sat Jan 14, 2017 12:30 pm

---

ye old member, happy anniversary!

may I say that I too have had an anniversary on another site (which I won't name), so congrats!! :D

_________________

Blacktwig -- Fallowstripe -- Goatshade -- Egretkit -- Bouncepaw

TC, SW -- RC, Warrior -- WC, YW -- SC, Kit -- RC, MCA

I was lost in the beginning & I am still
I recovered from a sickness but I still feel ill
The moment I move on
Then another treasure is gone
Someone doesn't have to be strong quick or keen
Just someone for me to lean

Mottledwing & Vipertail are gone.