Thinny Thin-Thin




Characters

: Foxkit [F]



Number of posts

: 4239


Age

: 2016


Clan/Rank

: I N A L L T H E F A N D O M S


Subject: Returning From The Mist [OPEN] Sun Sep 11, 2016 6:40 pm

---

Mistywater walked herself into ThunderClan camp, she smiled as she was surrounded by the barrows of the camp, finally free from the Two-legs. She looked at the dens that she remembered and purred as she looked at all the cat. She was ready for a surprised greeting.

_________________

Foxkit | ThunderClan | Kit | #cc6600

I'm trash
Sunlit
Site Moderator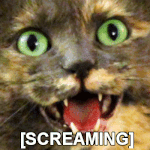 Characters

: [L] Littlestar | [C] - Cloudroar | [O] - Olivelily | [F] - Frostpaw | [La] - Lakewhisper | [T] - Turtlekit






Number of posts

: 1472


Age

: 17


Clan/Rank

: [L] - ShadowClan Leader She-cat. [C] - SkyClan Senior Warrior Tom. [O] - ShadowClan Warrior She. [F] - SkyClan Apprentice She. [La] - RiverClan Warrior Tom. [T] - RiverClan Kit She.


Subject: Re: Returning From The Mist [OPEN] Sun Sep 11, 2016 7:25 pm

---

Meadowpaw emerged from the apprentices den yawning and blinking sleep out of her eyes drowsily. She glanced around the clearing when she saw a familiar grey pelt standing in the clearing. "Mom!?" she cried before running to her and nuzzling her. "Mom where have you been! I was so worried about you! I missed you so much." she meowed, her pale green eyes shining with relief, happiness, and surprise. Her mom had disappeared one day randomly and Meadowpaw had been worried that something bad has happened, that maybe she had gotten killed, but she was here and she seemed okay. Things hadn't been the same around camp without her and every patrol she went on she always looked for her, any sign of her. When she went hunting she spent half the time looking for her scent, but never finding it. She was so glad she was here now and she was okay.

_________________

~Site Moderator and ShadowClan Leader~Littlestar

- ShadowClan ~ Leader ~ She-cat

Olivelily

- ShadowClan ~ Warrior ~ She-cat

Turtlekit

- RiverClan ~ Kit ~ She-cat

Lakewhisper

- RiverClan ~ Experienced Warrior ~ Tom

Frostpaw

- SkyClan ~ Apprentice ~ She-cat

Cloudroar

- SkyClan ~ Senior Warrior ~ Tom

My CharactersPost here if you need me!
Dimmeh




Characters

: Blackwhisker and Midge, coming soon.







Number of posts

: 2852


Age

: 16


Clan/Rank

: "WCC's National Treasure"


Subject: Re: Returning From The Mist [OPEN] Sun Sep 11, 2016 7:29 pm

---

Blacktwig padded out of the warriors' den upon hearing his sister's excited yet relieved tone. He purred when he caught sight of Mistywater, racing up to her and nuzzling her. "Oh, Mistywater..." he mewed silently. "We missed you so..."

_________________

Blacktwig/Blackwhisker --- ThunderClan * Fallowstripe --- StarClan * Goatshade --- StarClan * Bouncepaw --- StarClan * Egretkit --- StarClan
Acrylic




Characters

: Halfdawn (H) | Vixenheart (V) | Morningshine (M) Frostedgaze (F) | Squirrelpaw (SQ) Cindercloud (DECEASED) | Wishpaw (DECEASED) | Fawn (DECEASED) | Seedpaw (DECEASED) | Swanpaw (DECEASED)







Number of posts

: 915


Age

: 18


Clan/Rank

: (H) ThunderClan NAW | (V) SkyClan Deputy | (M) ThunderClan YW | (F) ShadowClan YW | (SQ) SkyClan Apprentice


Subject: Re: Returning From The Mist [OPEN] Mon Sep 12, 2016 3:21 am

---

Morningshine padded out of the warriors den sleepily upon hearing Meadowpaw's startling outburst, "Meadowpaw, what is with the shouting? It's so early and-"
She broke off when she saw her sister standing there at the entrance.
"MISTYWATER!" She shrieked, racing over, "Are you okay? Where did you go? What happened? Why did you leave?" She began shooting nervous questions at her sister.

_________________

Vixenheart ♥ Squirrelpaw ♦ Morningshine ♣  Frostedgaze
Thinny Thin-Thin




Characters

: Foxkit [F]



Number of posts

: 4239


Age

: 2016


Clan/Rank

: I N A L L T H E F A N D O M S


Subject: Re: Returning From The Mist [OPEN] Mon Sep 12, 2016 4:23 am

---

Mistywater looked around as cats slowly noticed her return. She looked at her sister as she raced over to speak "I..." she trailed off, not continuing until moments later. "I was looking for..." she kept thinking as she didn't want to have everyone know she was mates with a WindClan cat. She spoke again "I was going to find my mate at Two-leg place" she explained "I was taken by Two-legs" she mewed.

_________________

Foxkit | ThunderClan | Kit | #cc6600

I'm trash
Sponsored content

Subject: Re: Returning From The Mist [OPEN]

---