Sunlit
Site Moderator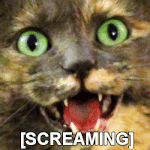 Characters

: [C] - Cloudroar | [O] - Olivelily | [F] - Frostwing | [La] - Lakewhisper | [T] - Turtlepaw | [M] - Mothpaw






Number of posts

: 1659


Age

: 18


Clan/Rank

: [C] - SkyClan Senior Warrior Tom. [O] - ShadowClan Experienced Warrior She. [F] - SkyClan Young Warrior She. [La] - RiverClan Experienced Warrior Tom. [T] - Riverclan Apprentice She-cat.


Subject: Sometimes Aspen's Die [[Open Death Topic]] Mon Jul 11, 2016 5:12 pm

---

Aspenstripe was out hunting for the others in the exiled 'camp', but all he could scent were rats. He sighed and crouched down, making his way towards the scent. It was really strong, like there were a lot of them. That's weird.. He thought to himself. Maybe I'll be able to bring two back. He thought hopefully. He knew how hungry everyone was, including himself, and they had kits there. He looked up at the sky, wondering where StarClan was, and sighed inwardly.

He brought his attention back out of his thoughts as he felt a sharp pain on his leg. He hissed at the pain swatting the rat away, looking up. His eyes widened, There's so many of them! He thought worriedly. He thought about trying to run, but he couldn't risk them finding their 'camp', especially with the kits there, so he stood and fought. He defeated one after another, but they kept on coming in swarms and he was getting tired as time wore on. Eventually he was covered in them, and he fell to the ground, weighed down with the weight of the rats. His hits became more weak as he lost blood from all the bites and his breath became shallower and shallower until it stopped altogether.

_________________

~Site Moderator~Olivelily

- ShadowClan ~ Experienced Warrior ~ She-cat

Turtlepaw

- RiverClan ~ Apprentice ~ She-cat

Lakewhisper

- RiverClan ~ Experienced Warrior ~ Tom

Frostwing

- SkyClan ~ Young Warrior ~ She-cat

Cloudroar

- SkyClan ~ Senior Warrior ~ Tom

My CharactersPost here if you need me!
Sombra




Characters

: (T)awnystorm, (S)parkflower, (M)ossfoot, (P)inekit, (A)spentail {Felix, Raven, Sunpaw, Magpieclaw, Stormpaw, Redfeather, Saltpaw, Heatherstripe}







Number of posts

: 2027


Age

: 99


Clan/Rank

: dead


Subject: Re: Sometimes Aspen's Die [[Open Death Topic]] Mon Jul 11, 2016 8:54 pm

---

Stormpaw dropped the mouse in her jaws as she heard the scuffling of rats or mice some way off. She thought it was unusual that it would be so loud.....maybe she should investigate. Maybe even catch some more prey if she could. She set off towards the sound and scent of rats. It grew stronger and louder until she turned a corner and was greeted by the sight of hundreds of rats swarming over a lump. Stormpaw froze. There was the faintest scent of a cat here.....Aspenstripe? She darted back behind the corner, but peeked around, searching the lump that these rats were covering. She caught a few glimpses of fur, an unmoving body, a tail, and her fears were confirmed, her eyes widening in horror.

_________________

| site moderator |please read

tawnystorm ~ sparkflower ~mossfoot ~ pale light of dusk

riverclan warrior ~ thunderclan meddie ~ windclan warrior ~ tribe of endless skies elder