Rose
I LOVE SLEEPY







Number of posts

: 1838


Age

: 18


Clan/Rank

: [Sp]TC Leader [St]RC Elder [N] TC Medicine Cat [O] TC Apprentice [E] TC Apprentice


Subject: Da babies were born. Thu Dec 31, 2015 11:46 am

---

Echostrike huffed, having just given birth, she lay on her side as her two kits suckled. She had no idea what to name them, and with the loss of her mate, Miles, in the flood, she herself was lost. Looking up at Nightfire, she nodded as to let visitors in. Her mother came in, and she mewed to both her and Nightfire. "I want you to name them. But if I don't like them they don't stick" she gave her regular grumpy attitude. But she saw her older brother cramped in the den, but he looked at the orange looking kit. He mumbled a "Gingerkit" while Spottedstar gazed at the silver tabby. There was a wonder in her eyes, and almost grief looking. Finally she purred out a "Dewkit" before turning around and leaving the den in sorrow. Echostrike didn't know why she was being like that, but then remembered her mother talking about her leader, Dewstar. Looking down at the kit, she accepted the name, both names.

_________________
Sun
I LOVE PIKACHU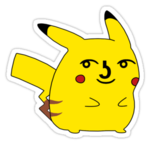 Number of posts

: 7027


Age

: 19


Subject: Re: Da babies were born. Thu Dec 31, 2015 1:09 pm

---

Robinflight waited respectfully outside the den until after her mother left in a cloud of grief. She wondered what it could have been that put Spottedstar in such a sad state, so she hurried into the nursery in worry, lightly bumping into Nightfire. "Oh, pardon me. Is everything alright?" She asked, wondering where Oliveheart could be at a time like his. She peered past her half-brother to look at the small litter, her gaze going soft. "They are wonderful, Echostrike. They will make you proud someday, I'm sure of it."

The little gray tabby, Dewkit, mewed in annoyance at all of the noise. She burrowed further into her mother's side in protest of the conversations.
Grey




Characters

: Specklefang, Mistkit, Greykit







Number of posts

: 3675


Age

: 17


Clan/Rank

: Thunderclan YA


Subject: Re: Da babies were born. Thu Dec 31, 2015 1:51 pm

---

Gingerkit gave a rowdy squeal at all the noises and scents and it was all very overwhelming, little claws, soft but sharp with disuse. Picking up her paws she started kneeding her mothers belly, her face contorting into funny expressions as she did so.
Rose
I LOVE SLEEPY







Number of posts

: 1838


Age

: 18


Clan/Rank

: [Sp]TC Leader [St]RC Elder [N] TC Medicine Cat [O] TC Apprentice [E] TC Apprentice


Subject: Re: Da babies were born. Thu Dec 31, 2015 5:35 pm

---

Echostrike looked at her sister, then felt her bundles squirm even more and she couldn't suppress her purr. She never knew what kits were like, she was confused at motherhood, but she curled up, pushing the kits closer.

Oliveheart came in after Robinflight, holding a mossball with water in it for his sister, Nightfire backed out of the den and Oliveheart took his place, setting down the moss.

_________________
Sponsored content

Subject: Re: Da babies were born.

---