Sleepy
Top Pillow





Characters

: Yarrowpaw / Wrenpaw







Number of posts

: 9782


Age

: 18


Clan/Rank

: RiverClan Apprentice / SkyClan Apprentice


Subject: Breezekit and Mistkit's Apprentice Ceremony Wed Jun 25, 2014 12:11 pm

---

"All cats old enough to swim gather to hear my words!" Reedstar yowled and yadda yadda yadda I ran out of variations for this same couple of words like twenty ceremonies ago don't judge me ;____;

_________________

‹‹ site administrator ››

pm me

||

current me

yarrowpaw ✽ wrenpaw

riverclan app — skyclan app
Icee
prittykit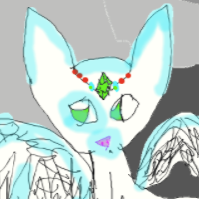 Characters

: {Icepaw}, {Whitecloud}, {Cedarpaw}, {Heatherfang}, {Aspenberry}, {Acornheather}, {Daisypatch}, {Finchpelt}, {Bramblefrost}, {Mistfeather}, Magpiestar, Rainstorm, Poppysong, Foxheart, Dawnpaw, Icepaw, Stagkit







Number of posts

: 2489


Age

: 19


Subject: Re: Breezekit and Mistkit's Apprentice Ceremony Wed Jun 25, 2014 2:00 pm

---

Mistkit bounced up and down happily. She had been waiting all morning for this moment, and it was finally here.

I'm one step closer to being the best warrior ever! Despite her messy fur she bounded out of the nursery and headed straight to where Reedstar stood with her fluffy chest pushed out.
Cherry




Characters

: pft







Number of posts

: 1600


Age

: 19


Clan/Rank

: RiverClan Kit


Subject: Re: Breezekit and Mistkit's Apprentice Ceremony Wed Jun 25, 2014 2:09 pm

---

Breezekit walked into the clearing with more dignity than her sister, but not by much. She too was bouncing on her toes and moving more quickly than was necessary towards the meeting, excited to be on her way to becoming a warrior. Halfway to her place beside her sister, she tripped on a stray pebble, falling flat on her face. Scrambling to her feet, she bounded over to stand beside Mistkit, slightly embarrassed. "You didn't see that." she muttered to her sister.

_________________

deal wit it
Christmassky






Number of posts

: 586


Age

: 20


Clan/Rank

: [Midnightsky:RiverClan/Warrior]


Subject: Re: Breezekit and Mistkit's Apprentice Ceremony Wed Jun 25, 2014 5:22 pm

---

Oh shizlle more kitties.


Midnight sky sat quietly in the clearing. "So many apprentices..."

_________________
Sleepy
Top Pillow





Characters

: Yarrowpaw / Wrenpaw







Number of posts

: 9782


Age

: 18


Clan/Rank

: RiverClan Apprentice / SkyClan Apprentice


Subject: Re: Breezekit and Mistkit's Apprentice Ceremony Fri Jun 27, 2014 11:46 am

---

When the Clan had gathered, Reedstar drew in a deep breath and launched into the ceremony. "Breezekit, Mistkit, you have both reached the age of six moons, and it is time for you to be apprenticed. From this day on, until you receive your warrior names, you will be known as Breezepaw and Mistpaw. Mistpaw, your mentor will be Sandcloud. Breezepaw, your mentor will be Littlelight I hope they will pass down all they know on to you."

_________________

‹‹ site administrator ››

pm me

||

current me

yarrowpaw ✽ wrenpaw

riverclan app — skyclan app
Sponsored content

Subject: Re: Breezekit and Mistkit's Apprentice Ceremony

---